PETER VETTESE all'opera
alle mie spalle Luca Rustici, Peter Vettese,Corrado Rustici…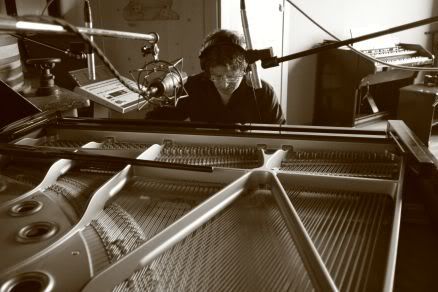 PETER VETTESE all'opera
Grande umorista oltre che musicista….ieri giornata di session di studio, mie foto durante l'incisione e poi tanti aneddoti sui Jethro Tull ….Ian Anderson che caccia conigli alle tre di notte con una jeep con sopra una mitragliatrice ed altro ancora….
per i nostalgici il testo di Aqualung.
AQUALUNG
Sitting on a park bench
eyeing little girls with bad intent.
Snot running down his nose
greasy fingers smearing shabby clothes.
Drying in the cold sun
Watching as the frilly panties run.
Feeling like a dead duck
spitting out pieces of his broken luck.
Sun streaking cold
an old man wandering lonely.
Taking time the only way he knows.
Leg hurting bad,
as he bends to pick a dog-end
he goes down to the bog
and warms his feet.
Feeling alone
the army's up the road
salvation à la mode and
a cup of tea.
Aqualung my friend
don't you start away uneasy
you poor old sod, you see, it's only me.
Do you still remember
December's foggy freeze
when the ice that clings on to your beard is
screaming agony.
And you snatch your rattling last breaths
with deep-sea-diver sounds,
and the flowers bloom like
madness in the spring.
Peter-John Vettese
Peter attended different schools, including a stint at a Swiss school for young gentlemen.
He first began music at the age of four with piano lessons. At nine, he began playing in public with his father's band. He appeared on the then famous TV talent show, "Opportunity Knocks" when he performed as front man of the group, five Beatles songs in three minutes! Unfortunately, this breathtaking rendition did not result in a win……
He ran away from home at seventeen to join one of the UK's biggest Dance Hall Big Bands, but was fired for rehearsing in company time with his own group.
He then joined a jazz group and toured Scotland and the US. He was playing in the pubs and clubs in Scotland again when he saw an advertisement for keyboard players in the "Melody Maker" music paper, which turned out to be from Jethro Tull.
Peter joined Tull in 1982 for the recording of the "Broadsword" album and toured with the band extensively for the next couple of years. He also worked with Ian on the solo "Walk Into Light" record in 1983, as well as the next Tull offering, "Under Wraps" in 1984. Having left the JT fold when the band was enjoying a brief few months off in 1985, following Ian's vocal strain difficulties, Peter began a career of his own, writing, arranging and producing. He did briefly work with Tull again, touring in 1986 and recording in 1989 on one occasion as a guest player.
Peter's great talent for zany and impromptu humour has lead him to occasionally go naked in elevators, smoke cigarettes with his "flaccid Tobe" and to feature that same said part of anatomical extremity curled, both placid and flaccid, on the shoulder of an unsuspecting Doane Perry in many a tour snapshot.
In the '80s, he worked with Frankie Goes To Hollywood, Go West, The Pet Shop Boys, The Bee Gees, Foreigner, Carly Simon, and more recently with Simple Minds and Annie Lennox. He is currently engaged on projects with ex-Take Thatter, Gary Barlow and is soon off to the US to work with some big-name American Artists who are so huge, that they can not yet be named!
He is currently signed to EMI and has his own recording studio, Parson's Green, where he writing music for a movie.
(tratto dal sito ufficiale della band www.j–tull.com/ )